Much like Pirates of the Caribbean, Disney makes another film based on one of it's iconic Disney Theme Park Attractions!
Directed by Brad Bird and written by Brad Bird & Damon Lindelof -from a concept that comes from Lindelof and EW writer, Jeff Jensen, "Tomorrowland" seems to embody the science fiction of advanced technology of the future, multiple universe and/or time travel, and nostalgia of the 1950's, as the name of this film was masquerading the internet as "1952" until more recantly. The Film is also going to star George Clooney!
So Far not much is revealed about the plot and characters of "Tommorowland", but here's what we have so far:
January 28th 2013:
"The photo Bird tweeted offered some possible clues for fans to ruminate over: Marked simply "1952," the box contained what appear to be photographs of Walt Disney himself, circa the 1950s, posing with a woman in one shot and a military man in uniform in another.




Other items on display appear to include a box of Technicolor film, a vinyl record in a paper sleeve, an unidentified piece of metal equipment, the book "Model Research," author Alex Roland's history of NASA from 1915 to 1958, and a copy of "Amazing Stories" magazine from 1928.

The issue of "Amazing Stories" is notable for containing one of the first stories by Philip Francis Nowlan about the World War I veteran cast into a state of suspended animation for more than 400 years, known popularly as Buck Rogers.

Is "Tomorrowland″ a Buck Rogers film? A story about the creation of Disneyland? None of the above?

Such guessing games are old hat to fans of "Lost," who went scrambling to find the obscure 1967 Irish novel "The Third Policeman" by Flann O'Brien after it was featured in the background of an episode in the show's second season. It was placed in the series by show runners Lindelof and Carlton Cuse as a nod to one of their many inspirations."
http://herocomplex.latimes.com/movies/t ... ysterious/
March 3rd 2013:
A teenage girl, a genius middle-aged man (who was kicked out of Tomorrowland) and a pre-pubescent girl robot attempt to get to and unravel what happened to Tomorrowland, which exists in an alternative dimension, in order to save Earth.
HitFix expand on this. The middle aged man is called Frank and will be played by George Clooney. Frank was kicked out of Tommorowland when he was just 11 years old by the nasty Nix. This is Hugh Laurie's role and unless there are some ageing effects planned, I expect he's going to be a robot too. Seems on-message as much as anything else.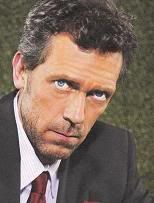 Nix has been in charge of Disneyland for many years, and he's become rotten, corrupt. Athena, unchanged since Frank was a young man, plays a key role in the film, and the hero is a girl named Casey who has a quick scientific mind that becomes important as the story unfolds. Nix is a guy who values technical accomplishment over creative thinking, and when he throws Frank out of Tomorrowland, he's not alone. Every creative thinker is banished, allowing Nix to focus purely on aesthetics and technical advancement for its own sake.
http://www.bleedingcool.com/2013/03/03/surprising-plot-details-for-brad-bird-and-damon-lindelofs-tomorrowland-leak/?
My Best Guess at making sense of this:
Tommorowland seems to still be an attraction inside Disneyworld or Disneyland, but is literally a bridge (microverse) to another universe or dimension, which is futuristic, has a culture, and has robots. It seems like it must be a privilege to be in or stay in "Tommorowland". Nix, seemingly played by Hugh Laurie, must see the 11 year old version of Frank discover something and kick him out (in the 1952?) and now a middle-aged man, perhaps an astrophysicists inspired by his 11 yr old experience in Tomorrowland, is urged by a young teenage girl named Casey, and a young girl robot named Athena to come and save Tommorrowland, which has been/is being removed from Disney's park, as Nix feels it doesn't look right (but is probably for another reason). But the bridge or portal disconnection creates an "imbalance" in our universe and if we don't find/open Tommorowland, the fabric of the universe will come apart and humanity will die!
The idea of having these 1950's items in a BLACK SUITCASE, as pictured in the twittered pic above, seems like a shout out to FRINGE (Observers: August & September - sentimentality-time/reality travel - types of parallel universes being inextricable) and Online Viral Marketing for Super 8 with "Rocket Poppeteers" and J.J. Abrams written screenplay and co-produced "Forever Young", along with the premise of Bad Robot's upcoming untitled TV series that takes place in the near future about L.A. Cops being paired with Andriods --One of the main androids is named Dorian (possibly an almost anagram for android) and a possible reference to the novel, "The Picture of Dorian Gray", which might also relate this in another way outside of robots, as the novel features the exploration of "aestheticism" which seems to go with HitFix's description and philosophy of the character Nix, all seem to convey they idea that Bad Robot connections live on even when the company itself isn't directly involved.
Note: The name Casey might be a pun to the idea of having a suitcase and/or a detective's "case" to solve a mystery! (Makes me think of Penny from Inspector Gadget and Super 8's fun Zombie-Film Noir movie: "The Case")
Additionally according to Wikipedia: Tomorrowland (the attraction) went through several changes and transitions through out the years, suffering often from budget cuts, but was always suppose to serve as fun Disney's Parks "science centers" and often seemed to coincide with Disney's association and fondness of all things Jules Verne.
Will Update the Thread When More Becomes Available. Stay Tuned.
Release Date is a ways away, currently scheduled for
December 19, 2014